Our Expertise - Stephane Damiano
The Prime Junior Golf Academy was created by Stephane Damiano, a renowned golf coach with more that 20 years of coaching experience at the highest level. Since its creation in 1990, Stephane Damiano's Junior Academy has allowed hundreds of young golfers to live their passion at the highest level.
Training methods developed by Stephane Damiano for the Prime Golf Academy allow our players to find their own way and pursue their golf dream in a challenging and international environment. Stephane & his team travel around the world and follow trainings and seminars with the world's best coaches to make sure to offer the best level of teaching and technology application to our students.
Victor Dubuisson
The most remarkable example of Stéphane's coaching experience is
Victor Dubuisson (best world professional ranking is N15, best professional golf player in the French golf history)
. Stephane discovered Victor Dubuisson at the age of 8 y.o and coached him until 14.
The logical continuation of Stéphane Damiano's passion for golf was to obtain the license of a sport agent for golf players to participate at the launch of Victor Dubuisson's career on the European Tour during 2009-2010. In 2011-2012 Stephane coached Victor again on the European Tour.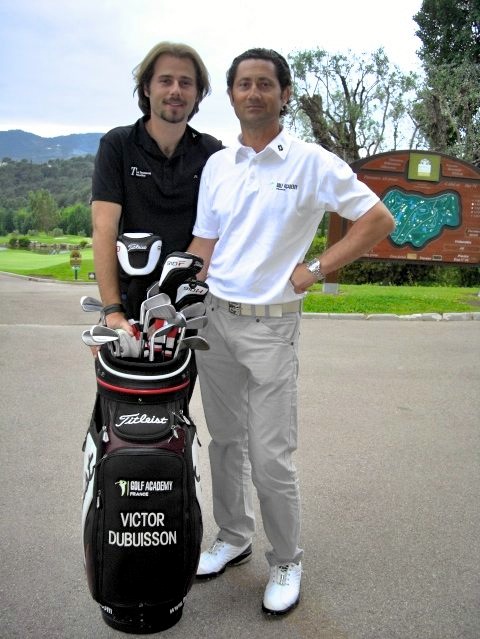 Alexandre Fuchs - Academy's ambassador
Alexander Fusch, N1 French amateur player (in May 2019), is an academy's alumni student and our official ambassador. Alexander spent 2 years, 2014-2016, in our full time golf & academic program. During these 2 years Alex lowered his golf handicap from 1 to -2 and went in official golf amateur ranking from N 108 to N 8.
After the graduation, Alexander obtained 95 % scholarship in Liberty University in the USA, where he continues his studies and plays in division 1 university golf team. Recently Alex won a professional golf tournament as an amateur player as well as several golf tournaments in the USA.