A personalised tournament calendar is established for each full time golfer at the beginning of each semester (September and February). This calendar varies according to student's golf level and personal objectives. Our main goal is to allow each student to play maximum of national and international tournaments to gain a great tournament experience and be able to get into European and world ranking.
Golf tournaments are divided into two categories, high level (called Grand Prix) and Academy tournaments. To be able to enter high level tournaments in France a golfer should have a golf handicap 12-10 and lower for boys and 14-12 and lower for girls. Most of the high level tournaments proposed by the Academy are coached tournaments.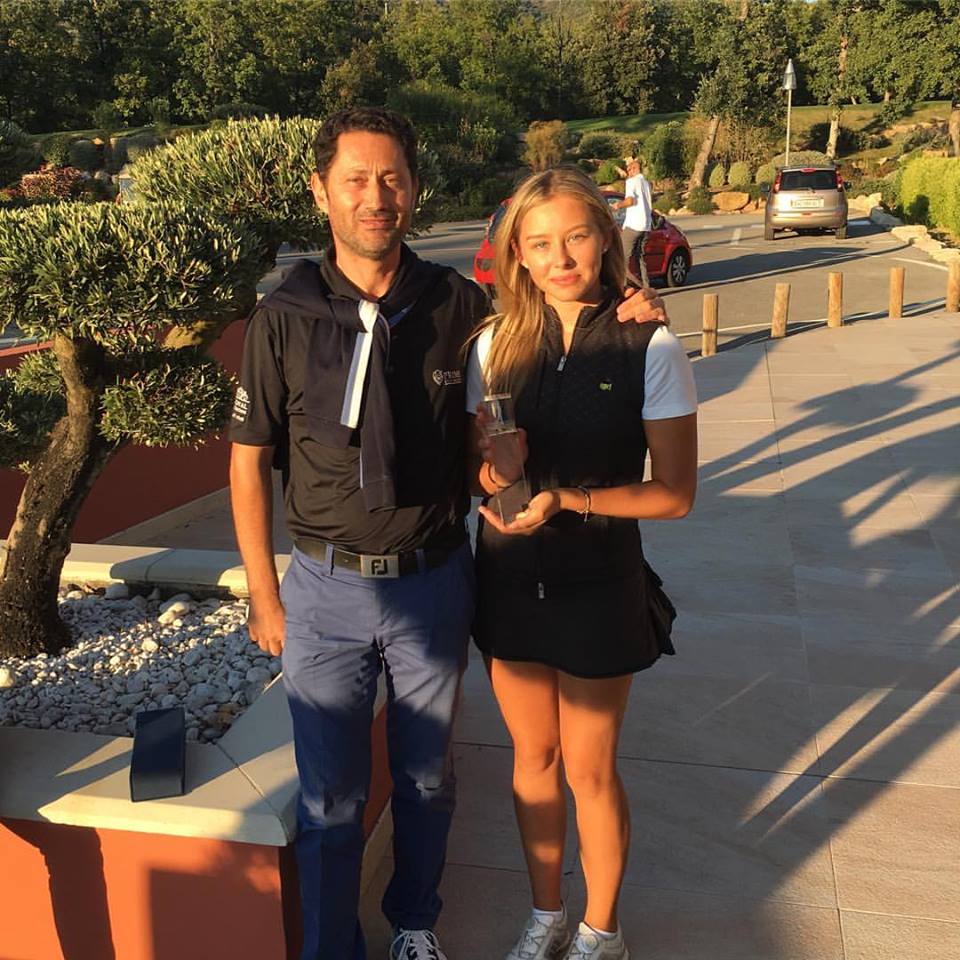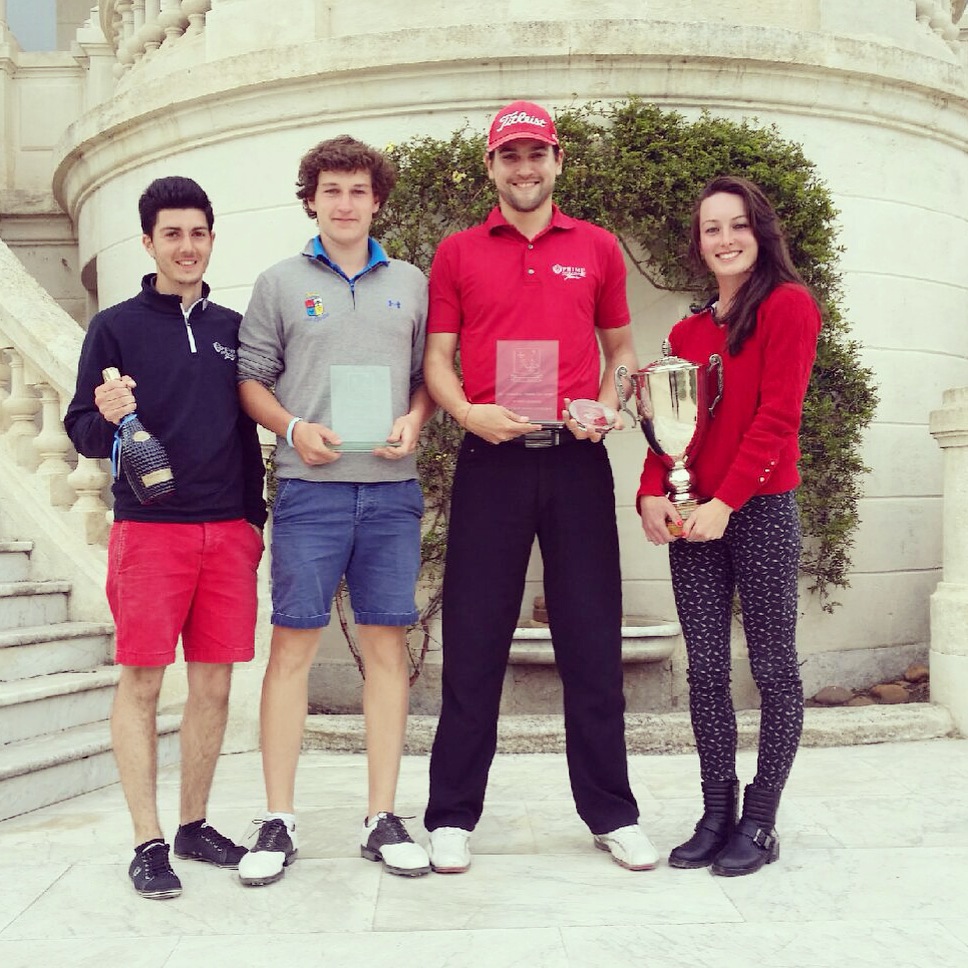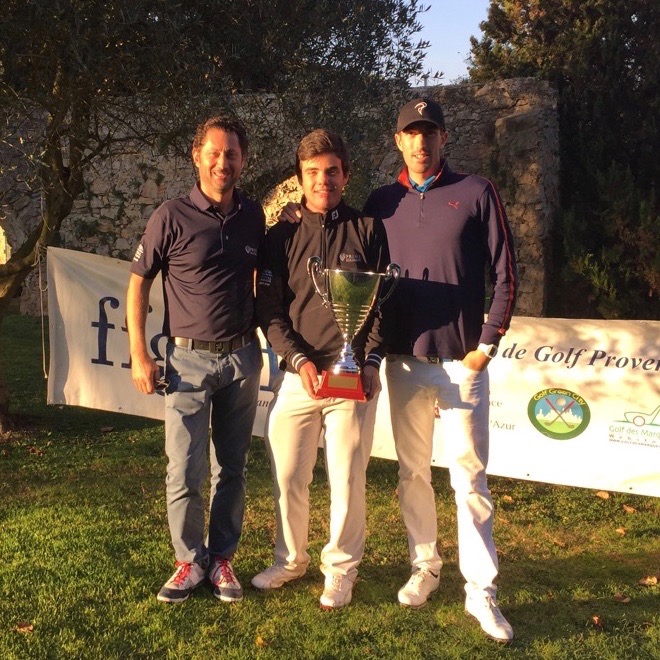 If a student does not have a required golf handicap to enter a Grand Prix, the Academy organises approximately 30 golf tournaments during the school year, allowing our students to lower their golf handicap to the required level. Academy's tournaments take place either during the week (almost every week) or on Sundays (approximately 1 Sunday tournament every 2-3 weeks).
Golf Tournaments Results for the past years (2015-2018)
23 Grand Prix won
35 times our golfers finished in the top 3
43 times our golfers finished in the top 10
Local Tournament Calendar January-June 2018
Results in these tournaments count for French & European rankings.
| | | |
| --- | --- | --- |
| Date | Tournament | Category |
| February 16,17 & 18 | Grand Prix Dames (Valescure) | Cat 2 |
| February 24 & 25 | Grand Prix jeunes PACA (barbossi) | |
| March 4 & 5 | Grand prix de Barbaroux | Cat 5 |
| March 9,10 & 11 | Grand prix du Cap D'agde | Cat 2 |
| March 10 & 11 | Grand prix des Chanalets | Cat 8 |
| March 17 & 18 | Grand prix de Barbossi | Cat 10 |
| March 23,24 & 25 | Grand prix de l'Isère | Cat 6 |
| March 24 & 25 | Grand prix de Toulouse | Cat 7 |
| March 30 -April 1 | Grand prix Nimes Campagne | Cat 4 |
| April 6, 7 & 8 | League Team Championship 1st & 2nd division | |
| April 6, 7 & 8 | Grand prix de la Nivelle | Cat 5 |
| April 7 & 8 | Grand prix de la Drome | Cat 7 |
| April 13,14 & 15 | League Team Championship Under 16 | |
| April 21 & 22 | Grand prix du Garden golf de Digne | Cat 8 |
| Mai 5 & 6 | Grand prix garden golf d'Avignon | Cat 7 |
| Mai 11,12 & 13 | Grand prix de Taulane | Cat 9 |
| Mai 11,12 & 13 | Grand prix Aix Marseilles | Cat 4 |
| Mai 19 & 20 | Grand prix de l'Ardèche st Clair | Cat 8 |
| Mai 26 & 27 | Grand prix du clou | Cat 8 |
| June 9-10 & 16-17 | Youth Grand Prix Aix en Provence | Regional qualifications |
International Tournament Calendar January-June 2018
Results in these tournaments count for the world ranking
| | | |
| --- | --- | --- |
| Date | Tournament | Category |
| January 24 -27 | Portuguese International Ladies Amateur | Int |
| February 14 & 17 | Portuguese International Boys | Int |
| March 1- 4 | Spanish Ladies International | Int |
| March 1- 4 | French Ladies International | Int |
| March 12- 17 | Italian Internationals Boys | Int |
| March 14 -17 | Italian Ladies International | Int |
| March 29 - April 2 | French International Cadets U18–CARLHIAN trophy (ST Germain) | Int |
| April 6-9 | International Ladies Foresome | Int |
| April 6-9 | Irish Womens' Open Championship | Int |
| April 7-8 | French International Men | Int |
| April 13-15 | Arcachon Open (Arcachon, France) | Cat 0 |
| April 20-22 | Coupe Frayssineau Mouchy (Paris, FONTAINEBLEAU) | Cat 0 |
| April 20-22 | Scottish Women Open | Int |
| May 4-6 | French Team Championship Men | Int |
| May 14-20 | Irish International | Int |
| May 25-27 | International Men's French Cup Murat | Int |
| May 30 - June 3 | German Boys | Int |
| June 6-10 | Ganay Cup and Jacques Leglise Trophy (BONDUES city) | Cat 0 |
| June 14- 23 | Bristish Aamateur | Int |
| June 25 -28 | Irish Boys (Blevoir Park) | Int |